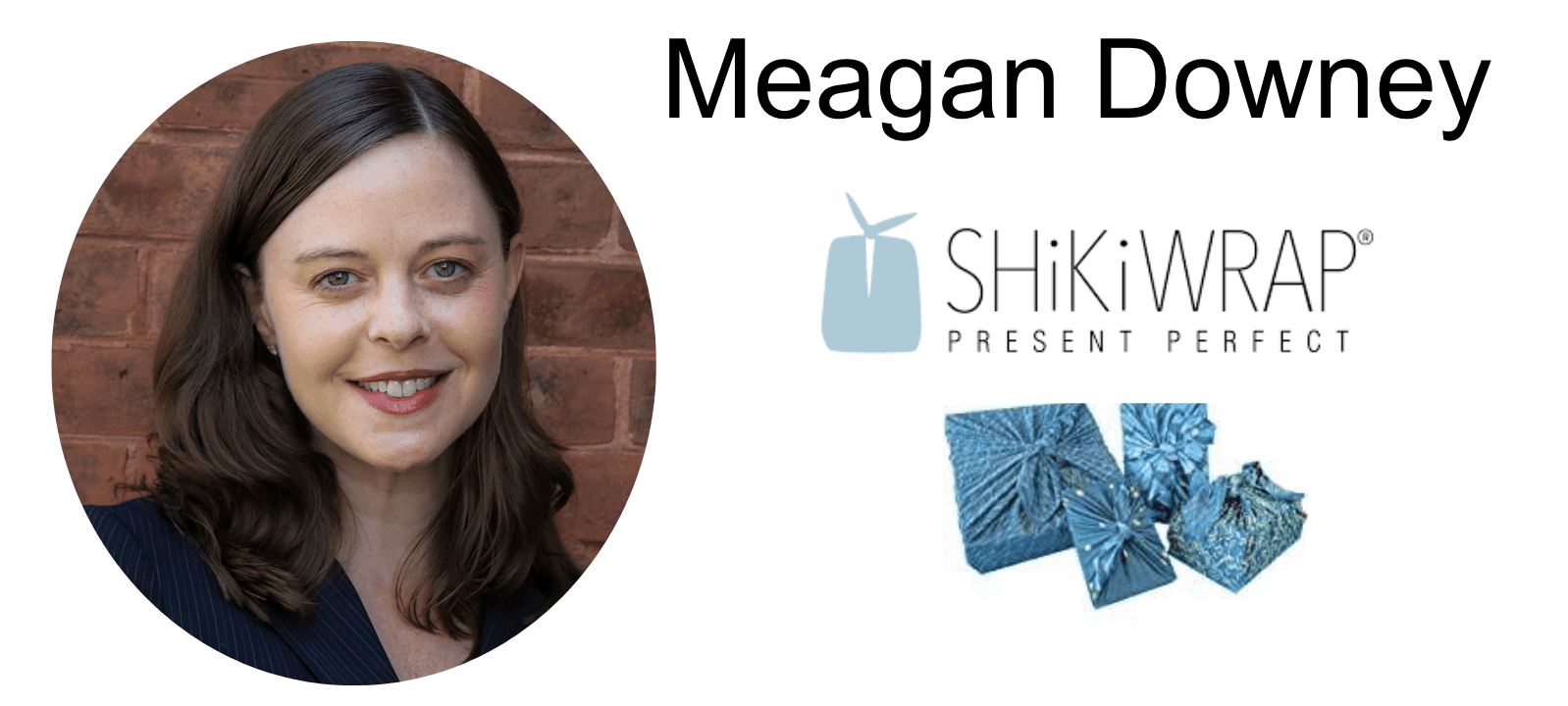 HerStory:  Meagan Downey, Founder of Shiki Wrap
June 29, 2023
12:00pm ET to 1:15pm ET
Zoom | Free
Join us on June 29, 2023 to hear Meagan Downey tell HerStory of  how "it took a lifetime of loving gifting before Shiki Wrap came to be."
After two decades leading and consulting mission-driven organizations across the country working to solve big problems like homelessness, teenage pregnancy and health disparities, Meagan Downey focused on solving a seemingly simple problem: how can eco-conscious gift givers give a beautiful gift to their recipient without the waste and the hassle of paper gift wrap?
It seemed like a simple problem to solve, considering her day-to-day work included counseling health care providers through an abrupt federal funding battle and conducting on-site board trainings for an organization serving the military in Alaska. So she set out to solve it, but soon learned that solving even the simplest problems sustainably and at scale is a LOT harder than it seems. It's also incredibly rewarding. Meagan draws parallels between founding a company and mothering a child.
Meagan moved to Vermont from Chicago as a single mother in 2011. She graduated with an MBA at Champlain College and in 2021, founded Shiki Wrap, a startup on a mission to change gift giving for good.
Shiki Wrap
A zero waste, reusable wrapping "paper."
Reusable, fabric gift wrap is a truly sustainable solution for eco-conscious gift givers who want to give their recipient a beautifully-wrapped gift while caring for the planet. Unlike "compostable" paper wraps, Shiki Wrap can be used for a lifetime of occasions and doesn't require wasteful tape or ribbon. And it saves you valuable time!
This Reusable Gift Wrap Is Made From Plastic Trash | World Wide Waste | Insider Business
Agenda for Zoom Online Event:
12:00pm –  VT WIN intros and meeting guidelines
12:10pm – HerStory: Meagan Downey
12:50pm – Time for Q&A with Meagan
1:15pm – Open Discussion / Shiki Wrap Up 🙂
As always, there will be time for a discussion and sharing ideas.
Vermont Women's Investors Network believes strongly in being an inclusive and diverse network.  While we appreciate our male allies, this event is free and open to all WOMEN, no matter their path, life experiences or relationships, to discover and achieve their economic goals in alignment with their values. 
PLEASE NOTE: We will email you the Zoom link the afternoon of the event.