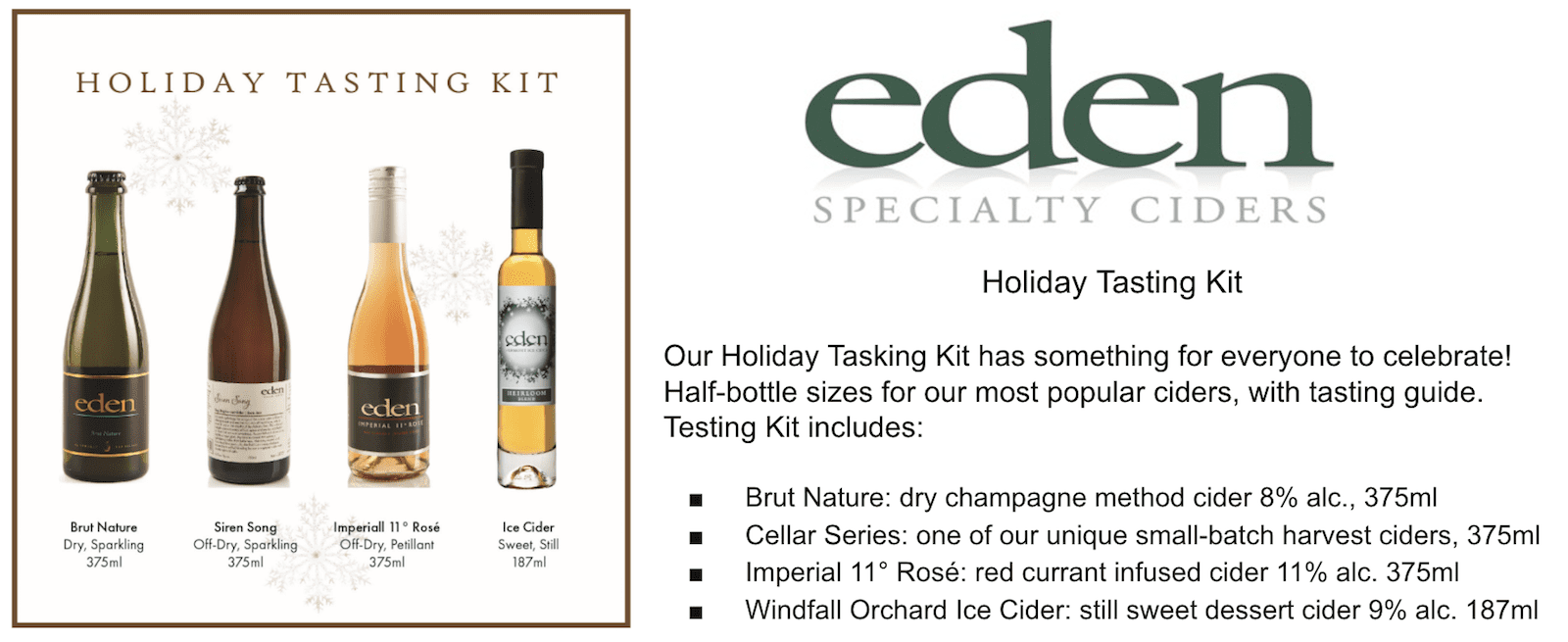 Join us for our first annual VT WIN Holiday Meeting.  We'll get a chance to recap the year, talk about actions we've taken to align our dollars with our values, and enjoy a cider tasting with Eleanor Leger of Eden Specialty Ciders!
Here's the Agenda:
VT WIN introductions and welcome
Exercise:  in groups (or breakout rooms if we need to do), each take 3 minutes to talk about:

One thing that you've done in the last year which makes you feel like you've aligned your consumer dollars, investments and/or donations with your values. And,
What is one thing in 2021 you'd like help with to keep you moving forward with your investing goals.

Eden Specialty Ciders Tasting

Eden Specialty Ciders was established in 2007 with the mission of supporting the working landscape of Vermont through cider. They grow their own cider variety apples and source from 7 other small local orchards. See the video.Eden Ciders founder and CEO, Eleanor Leger, will join us for a personal guided tasting of Eden Specialty Ciders. Eleanor presented to VT WIN prior to the pandemic, and we're excited to hear how Eden is doing and what actions Eden took to pivot the company so they could not only survive, but grow!
After Eleanor's update, Eleanor will take us through an interactive discussion of apple varieties, sustainable growing practices, cider making, and tasting of her exceptional, wine-style ciders. This event is open only to WIN members.
For information on ordering your Holiday Tasting Kit from Eden ahead of our meeting, see instructions below.

Wrap Up and Holiday Cheers
As always, there will be time for a discussion and sharing ideas.  Vermont Women's Investors Network believes strongly in being an inclusive and diverse network.  The meeting is free and open to all women and femmes, trans-gender and gender non-forming people interested in learning more about how they can invest with their values.
STEP 1 – REGISTER FOR THE MEETING: 
Register below.   We'll be giving away 5 copies of The Clean Money Revolution:  Reinventing Power, Purpose, and Capitalism by Joel Solomon, at the meeting so be sure to sign up!  We'll pick 5 lucky people randomly!
STEP 2 – ORDER YOUR EDEN TASTING KIT
In order to fully participate in the tasting, be sure to purchase your Holiday Tasting Kit from the Eden website no later than November 30th to insure delivery in time for the tasting!  Link to order the Tasting Kit at https://www.edenciders.com/detail/holiday-tasting-kit/.   Tasting kit is $45.00 and supports this female owned, sustainable cider company.