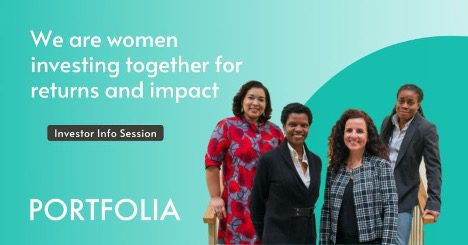 On March 9th Northern New England Women's Investor Network (NNE WIN) is offering an opportunity for women to learn more about angel investing and to get your questions answered. Brittany Bigler, Manager of Investor Relations at Portfolia Venture Capital Funds will be presenting to NNE WIN on women and angel investing and share their investment funds concept backing the innovative companies women want to see in the world. Brittany will address :
why invest in private companies?
who is Portfolia?
why do they exist?
who are they are targeting to invest in?
how is a fund operated?
the benefits of investing in a fund with professional managers (selection, diligence, negotiations)
how the life of a fund works
examples of funds, the managers and companies
When: Wed. Mar 9, 2022 at 5:00 PM Eastern Time (US and Canada) Zoom Free After registering, you will receive a confirmation email containing information about joining the meeting.
NNE WIN are women in Maine, New Hampshire, and Vermont, coming together to engage, learn and connect with others interested in Angel and Impact Investing.
Portfolia creates investment funds, including entrepreneurial venture capital funds, customized for women. They enable women to start out with a small minimum investment, which is invested across 8-10 innovative private companies across 12-18 months by an expert leadership team. They offer a 'learn-by-investing" approach that helps investors develop and exercise their financial muscles. Anyone who meets the accreditation requirements and is interested in learning more about investing in a specific Portfolia Fund can connect with Portfolia directly.
This presentation is for educational purposes only – not Guest Solicitation
Information
Guests are invited to attend this NNE WIN presentation for the sole purpose of learning more about women in angel and impact investing.  
Solicitation
Our invitation to attend the Portfolia Fund angel investing overview presentation does not represent a solicitation for investment.  If you have interest in  a specific Portfolia Fund, please reach out directly to https://www.portfolia.co/   or email investorrelations@portfolia.com